Why Safety Has Benefited You
CEO Corner
There's nothing better than having a safe place to work without fear of accidents. A lot of our clients are sizable, and subcontractors safety record (EMR) is one of the first things they look at. The cost of a bad safety plan can result in having to close a company's doors. One must see safety as a benefit to all. After years of training, looking back at how we operated 25 years ago, I wouldn't feel comfortable on that same site today.
Dean Lang
Project Manager
Lang Masonry & Restoration Contractors, Inc.
Fall Protection
Safety Talk Tuesday
Fall protection is a term used to describe the methods workers use to prevent falls from heights. There are three basic types of fall protection.
View safety talk | Safety Library | Safety equipment
1926.501 - Duty to Have Fall Protection
OSHA regulation
The employer shall determine if the surfaces on which its employees are to work have the strength and structural integrity to support employees safely.
Silica Course Coming to Orlando and St. Louis
Train key employees to be a competent person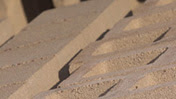 The MCAA's Silica Train-the-Trainer Course is a six-hour program that will train a key employee to train other employees to be a competent person.
Register for course | Create Exposure Policy
MCAA Safety Advantage Awards
Submit your OSHA Form 300 by June 30 to enter
The MCAA Safety Advantage Awards draw attention to the benefits of safety. Awards are presented based on incident rate. Entry is free for MCAA members.
Discounts on Safety Equipment
MCAA Safety Marketplace
MCAA members can purchase safety products including gloves, harnesses, and more at significant discounts through the MCAA Safety Marketplace.