The State of Masonry Education for Engineering Students
Tech Talk
Engineers tend to design using materials and methods that they are most comfortable with, and they are most comfortable with materials that they have been taught the most about. For this reason, the education of future engineers should be something that catches the attention of the entire masonry industry.
View Tech Talk | More Tech Talks
Anatomy of a Harassment Case: Part I
Wednesday, April 4, 2018 at 10:00 AM CDT
This webinar will cover having a strong no-harassment policy, what should be in the policy, promulgate the policy, who to train, and what to train about.
Register for webinar | View full webinar schedule
Look Out For Your Co-workers
Safety Talk Tuesday
Be on the lookout for unsafe conditions and correct them, or report them to your supervisors as soon as possible. Help your fellow workers.
View safety talk | Safety Library | Safety equipment
A Sit Down with Three Inductees
2018 Masonry Hall of Fame
MASONRY had the opportunity to sit down and chat with three inductees of the Masonry Hall of Fame. Read their interviews.
Masonry Industry Legislative Conference
May 15-17, 2018

in Washington, D.C.
The Masonry Industry Legislative Conference is the perfect opportunity to meet with elected officials and discuss issues affecting the masonry industry.
Register now | Reserve room | View schedule
Working to Fill the Skilled Labor Gap
County Materials Partners with High School Class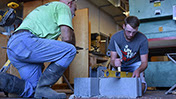 As a Technology Education teacher, John Vanderwyst knew he was uniquely suited to address the shortage of skilled workers facing the construction industry.